Lyme Disease on the Increase around the UK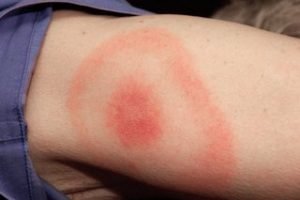 New estimates suggest that cases of Lyme disease around the UK are possibly three times higher than was previously thought. This is according to a new paper published in BMJ Open.
This research found that there could be over 8000 cases of Lyme disease in the UK by the end of 2019. This is compared with previous estimates of around 3000 cases. Unsurprisingly, they found that Scotland has the highest number of cases (around 27% of the total number of cases – that's over 2,000 cases this year if their predictions are correct). This is most likely due to the climate in Scotland being ideal for ticks, and the popularity of Scotland for all kinds of outdoor activities, including walking, camping and mountain biking.
Lyme disease is passed on by infected ticks, which are often picked up by people in long grass. Early symptoms usually involve a circular red skin rash around the bite spot. Although most rashes appear within a few weeks, it can take up to 3 months to show, if it shows at all. Symptoms also include high temperature, muscle pain, fatigue and headaches. As such, a lot of cases go misdiagnosed as something else.
The Smidge team of APS Biocontrol Ltd. includes experts on tick biology; our CEO, Dr Alison Blackwell has co-authored a handy guide to ticks for the whole family ("Ticks, your Pets, your Family and You" – available from Amazon and other online suppliers). We are working in collaboration with LymeAid UK to help tackle this problem.LymeAid UK works to fund private overseas Lyme disease tests to those who need but can't afford them, which is a fantastic idea. A positive Lyme disease test is the difference for many people between getting treatment on the NHS or not; or being able to successfully fundraise for and obtain private treatment. LymeAid UK strongly recommend using a repellent containing Picardin, such as Smidge, to protect yourself against ticks.